CoinTracking Review | The most trusted crypto portfolio Manager to help you manage multiple cryptocurrency accounts
Introduction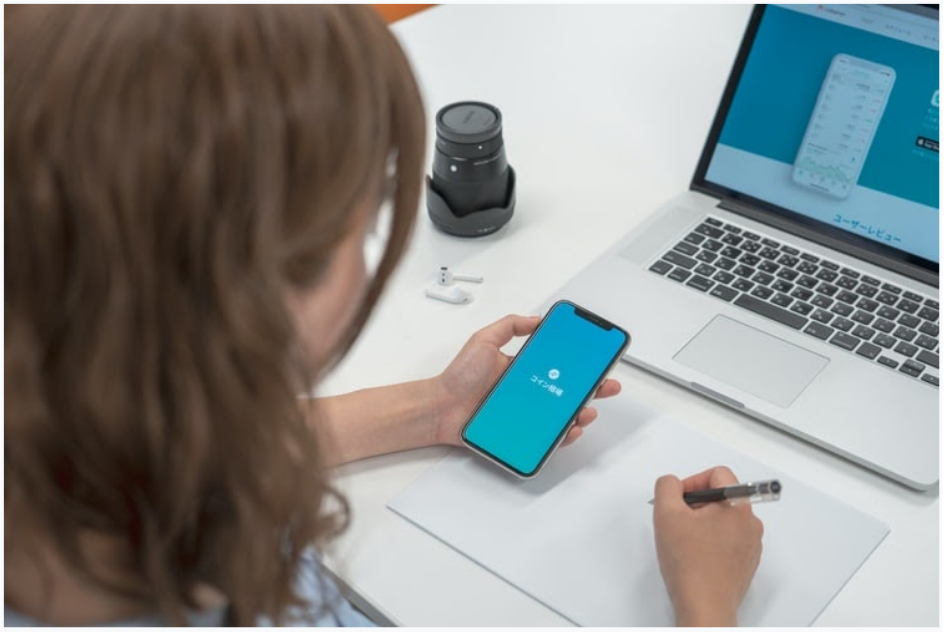 Today, the world of cryptocurrency is more competitive than ever before. As the number of cryptocurrencies continues to grow to 4000, traders gear themselves to make the best profits out of their coins. But, this get-rich-quick thing is no walk in the park. From evaluating market trends, buying coins, choosing wallets to ultimately making profits, a trader has loads of things on the back.
What is Coin Tracking?
Coin Tracking is your go-to solution for cryptocurrency tracking and cryptocurrency reporting in the simplest way possible. Started as a cryptocurrency tracking portfolio in 2013, this automated cryptocurrency software today offers some of the best tax reporting features at competitive prices.
How does Coin Tracking work?
Using a unique approach, Coin Tracking auto-syncs all your transactions by connecting its online portal with your respective cryptocurrency exchange and wallet. As a result, the software generates real-time tax reports and constantly updates you about the value of your investments.
From regularly checking your balances, tracking transactions, automatically generating capital gains to turning all odds in your favor, Coin Tracking is an all-rounder when it comes to helping traders with their crypto tracking.
Whether you call yourself a full-time expert trader or a novice who has just started investing, Coin Tracking is there for you in your whole trading spree.
Apart from all these perks, their courteous customer service also offers professional help to struggling crypto traders. No matter where you stand today, Coin Tracking makes things easier, quicker, and profitable for you in the long term by giving accurate reports on your overall profit and loss.
On top of all, Coin Tracking offers customized services for both crypto traders and crypto companies, meeting their diverse expectations. Let's walk through their 6 fundamental services that make Coin Tracking more special.
Personal Analysis

Trade Imports

Tax Declaration

Coin Charts & Trends

Professional Help

Security & Encryption
A quick overview
The automated software has more than 870K users from different parts of the globe, out of which 1250+ are CPAs and corporate clients.

To give accurate results, the crypto tax software uses smart techniques and 12 years of historical data for every tax report.

With successfully running in more than 100 countries, Coin Tracking automatically imports trades from 75+ crypto exchanges, including Binance, Kraken, Coinbase.

They have both free and paid options with a team of experts that's 24⁄7 available for your every problem.

From offering customized crypto reports, profit/loss audit reports to informing about realized and unrealized gains; Coin Tracking makes things easy and simple for you.
How to use Coin Tracking?
As discussed before, Coin Tracking works by tracking your cryptocurrency exchange and wallet, but for that, you need to explore their website a bit. It's simple, easy, and quick to get the Coin Tracking at work once you've read its instructions carefully.
Step-1: Create an Account
By making an account, you register yourself as an official crypto trader in their 870k+ active users' community. For this, you will be asked to enter your username, password, and, most importantly, email address. Try not to skip the email address option so that you're updated every time and reach out to them for any support.
Once done, now choose the number of transactions as per your requirement. From free, pro, expert, or unlimited, you can select any option or simply go with the advanced API import and transaction paid option.

Step-2: Import Your Transaction Data
Next comes importing your transaction data so that the automated software can start tracking it right away. Either you like to do it manually or automatically, the easiest way is to click the "Drop Down" menus option that you'll probably find somewhere on the front page of the website.
For manual: (If you're like exploring the website)
Export all the transaction data from your crypto wallet in the form of CSV files. Download the CSV files from your wallet or exchange, upload them to Google sheet, excel or choose the Coin Tracking CSV format, and export the file on the Coin Tracking dashboard.
**For Automatically: **(If you like App to do it)
It is a paid option in which the software API syncs all your transaction data automatically through an API link.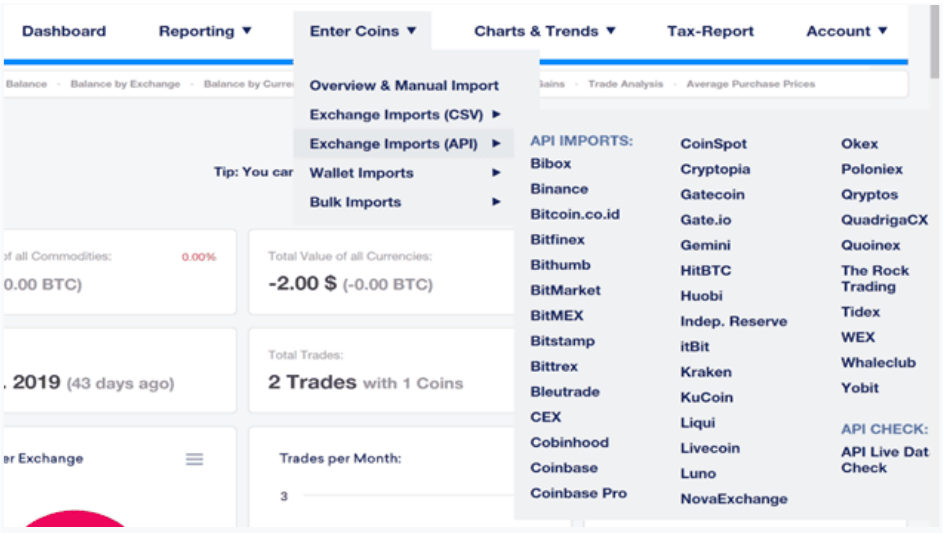 Step-3:Create Your Coin tracking Tax Report
After ensuring all your data has been imported successfully on the software, now it's time to make tax reports. To get it done, select the option "Create Tax Reports," which will direct you to another page of the website.
There, you'll find a table to choose your preferred options while making the tax report. choose options that you wish to include in your tax report, such as the field of the tax year, type of transaction, previous trades, etc.
However, paid users using advanced settings also get the option to calculate margin trades, group their transactions and accounting methods.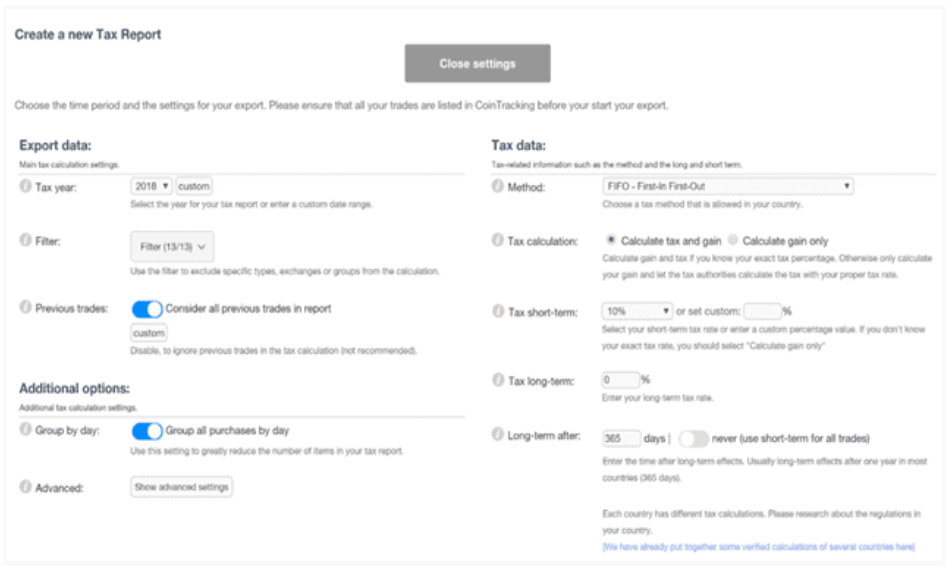 Is Coin Tracking costly?
By offering all free, pro, expert, and unlimited pricing plans, it gets a lot easier for anyone to avail their features without breaking a bank. Here's a simple overview of the pricing plans that can suit both an individual crypto investor and a crypto company.
| | | | | |
| --- | --- | --- | --- | --- |
| Time Duration | Free | Pro | Expert | Unlimited |
| 1 Year Price | - | $9.99 Monthly | $15.49-$24.99 Monthly | $49.99 Monthly |
| 2 Year Price | | $7.79 Monthly | $11.99-$19.99Monthly | $40.99 Monthly |
| Lifetime Price | | $385 | $1,649 | $4,799 |
To ease the payment process, Coin tracking only offers safe, reliable, and low-cost payment methods that you can even trust with closed eyes. Some of these are PayPal, Bitcoin, Visa, MasterCard, American Express, Google Pay, bank transfer, etc.
Pros and Cons of Using Coin Tracking
Supports 100+ Exchanges and Wallets
From Binance, Kraken, Coin base, KuCoin to your favorite cryptocurrency exchange, Coin tracking has coin trends for 10,624 coins.
With Coin Tracking, you no longer have to fuss about finding your favorite cryptocurrency wallet because Coin Tracking provides access to more than 20 wallets. Nearly all the wallets mentioned allow importing both ingoing and outgoing wallet transactions from famous cryptocurrency ledgers. Some of these are Blockchain, Ethereum, Exodus, Gatehub, Mycelium, Ledger, Trezor, and over 200 other altcoins.
The automated software doesn't allow any third party to access all your crypto-asset transactions. From offering API encryption, two-factor authentication to applying several other verification steps, Coin Tracking makes all your information safe, protected, and only between you and the software.
Here's a catch:
Not only it offers a strong backup to all your data every time, but it also restores them at the last nerve-wracking minute.
Whether you want to see the history of your trade, the total value of your account, the historical price chart of bitcoin, or the conversion rate of the coin in any currency. The dashboard is quite detailed that is hard to find in other tax software.
Calculate the value of realized or unrealized gain using a coin tracker
You can calculate the value of your capital gain in any currency you like. If you are in the UK or Canada you can use the LIFO or FIFO method. However, you can use other methods as per supported accounting principles.
Know your Average Purchase price
It is a handy tool for traders that can accurately estimate the exact profit and loss of their investments. This average purchase price report tells about how much cost an investor has made and what is the existing price currently in the market.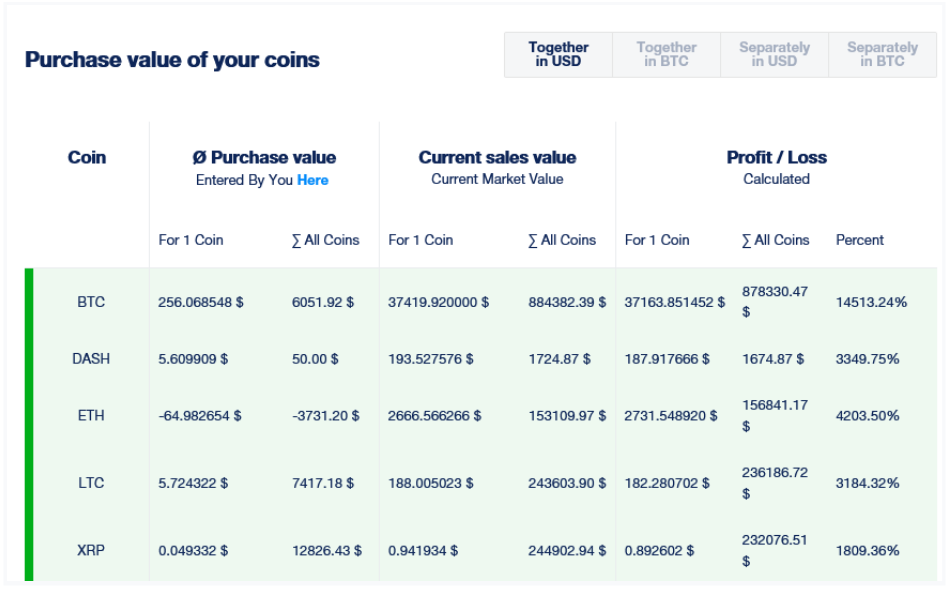 Not only struggling crypto individuals, but Coin tracking has also got ideal solutions for small or large-scale crypto companies participating in cryptocurrency.
They have a separate coin tacking corporate feature that allows you to set up all your customer's crypto data in one go. Only by using a single unified interface and spending a few minutes, you no longer have to spend hours on adding things one by one.
Cons of Coin tracking
It doesn't support the API import feature on free plans, so you might have to spend a few bucks to avail this convenient and worthy feature.

Most of the reviews have complained about poor customer support, users have to wait for days or even months to get a response about their support ticket.

If you are doing an average of 50-100 traders in a day then it might not be suitable to spend. Using spreadsheets or google documents can be effective with a low volume of trade.

Many users have also reported on CoinTracker. helps for syncing issues in Coinbase and Binance transactions into their wallets.